Cross Country Running BMAT @ Burntmill 29th of March 2019
All the students we brought gave their best and the PE team are so proud of them. This was a BMAT competition so students were running against Little Pardon =LP and Freshwaters= FW and of course ourselves Cooks Spinney=CS. Points were scored by the best 4 top finishers in the race within their school. The results as shown below along with pictures.
Girls year 3 & 4 race ran 1000m results:-
1 Emily LP
2 Ivy CS
3 Sofia FW
4 Faith CS
5 Kyla CS
6 Leah LP
7 Lexie CS
8 Freya LP
9 Carys FW
10 Mollie CS
11 Kyla CS
12 Amanda FW
13 Martha CS
14 Linus LP
15 Alishba FW
16 Tracey CS
Top 4 Finishers
CS 18
LP 29
FW 39
Cooks Spinney Girls won the team event which is excellent and Ivy ran a brilliant race with coming 2nd. Overall a brilliant team performance taking the gold medals.
Team picture: Ivy, Kyla, Lexi, Faith
Year 3/4 Boys race, 1000m results
1 Joseph CS
2 Gifson FW Y
3 Archie CS
4 Oscar CS
5 Nana FW
6 Ivan LP
7 Alfie CS
8 Ronnie CS
9 Braydon CS
10 Cordell CS
11 Johnny = FW
12 Leo = FW
Top 4 Finishers
CS 15
FW 30
Winning team was Cooks Spinney with Joseph winning the race by 15metre lead, absolutely brilliant and a excellent team win too.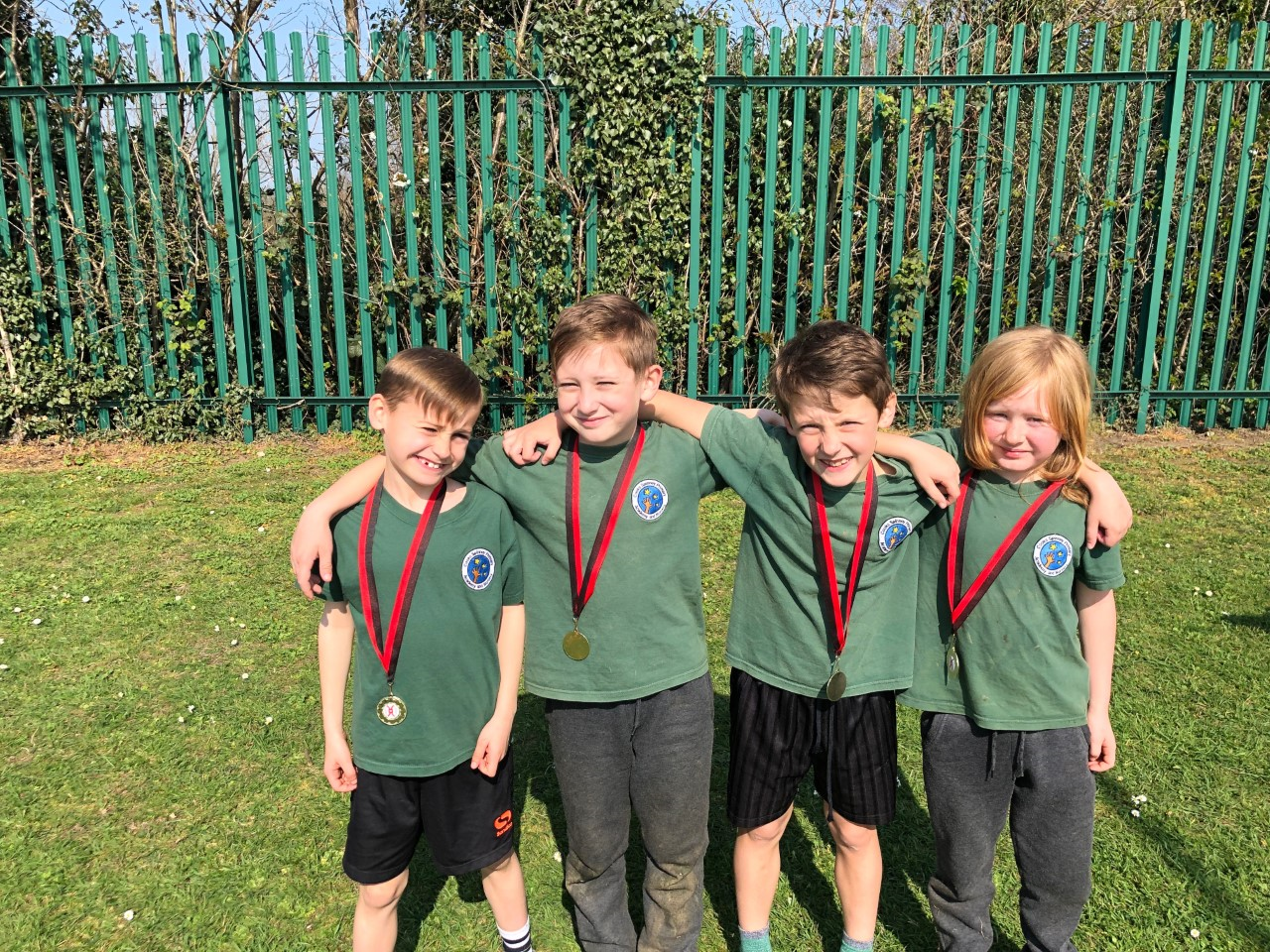 Picture: Josey, Archery, Oscar and Alfie
Year 5/6 Boys race, 1500m results
1 Hadley FW
2 James CS
3 Archie CS
4 Dima FW
5 Nathan LP
6 Robert FW
7 Archie CS
8 Liam CS
9 Sid FW
Top 4 Finishers
FW 20
CS 20
Cooks Spinney boys team drew on points with Freshwaters but because the winner of the race was a Freshwaters runner so they were given the win. James came second with a very strong finish when he passed a runner just on the line. Overall a brilliant team performance, winning a silver.
Team picture: Archery, Liam, Archery and James.
Cooks Spinney Primary Academy and Nursery
PER ARDUA AD ASTRA - THROUGH ADVERSITY TO THE STARS ..to work collaboratively to create an innovative and diverse curriculum that fully engages the whole community in our relentless drive and commitment to raising standards as we continue our journey to the stars. We are part of Burnt Mill Academy Trust, a small co-operative trust of seven schools - Cooks Spinney Primary Academy, Freshwaters Primary Academy, Roydon Primary, Little Parndon Primary, Magna Carta Academy, Forest Hall School and Burnt Mill Secondary Academy.
Want to find out more?
Visit the Cooks Spinney Primary Academy and Nursery website to learn more about the school