A Close and Competitive Semi Final!
A close and competitive Semi Final, finally being decided by penalties.
Year 5 & 6 Football District Cup
After returning to school after the Christmas break our year 5 & 6 football team were straight back into action on Wednesday 9th January with a Kingston cup match against Surbiton high school.
The game was very close and competitive with some fantastic football being played by both teams. After going 1 nil down Corpus Christi managed to equalise in the second half to make it 1-1. After a hard fought second half from both teams the game ended with neither team able to get the winner. The game had to be decided on penalties, best of 3 wins. Corpus Christi managed to score their first two penalties and Surbiton missed their first two meaning Corpus Christi progress to the Quarter Finals.
Well done to all the players who took part in the match day squad who worked hard during the game and represented the school.
Corpus Christi Catholic Primary School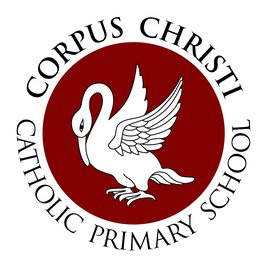 Welcome to Corpus Christi Catholic Primary School's School Games page. Here you will find information on our participation and achievements in sporting events throughout the academic year 2018/19.