A fantsastic year 5 & 6 football tournament with lots of goals!
CCC Football Tournament
On Tuesday 13th, Year 5 and 6 went to a CCC football tournament. We won 5 out of 6 games and drew against Tolworth Primary School.
In total we scored 23 goals and only conceded 2 and overall, we came 2nd out of 7 schools; this was because of goal differences.
It was a really competitive tournament due to intense matches, skilful players but, we worked together as a team and showed true sportsmanship.
As a result, we can still qualify to London Youth Games.
Well done to everyone who took part!
Written by: Daniel & Lochlan (Year 6)
Corpus Christi Catholic Primary School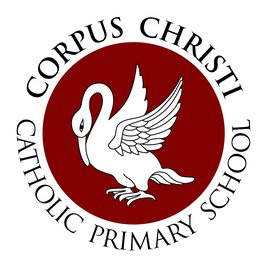 Welcome to Corpus Christi Catholic Primary School's School Games page. Here you will find information on our participation and achievements in sporting events throughout the academic year 2018/19.