A great week of sport for all children at Corpus Christi, a very active week
Sports Week & Sports Day
Monday 24th June - All classes from year 1 to year 6 spent time on the playground with Ed the tennis coach from Surbiton Fitness and racket club practicing their tennis skills.
Tuesday 25th June - KS2 had lots of fun on the playground playing different cricket games with Ed from Twenty20 cricket club
Wednesday 26th June - All classes from year 1 to year 6 spent time with Dom the basketball coach from Kingston Lions basketball club practicing their dribbling and shooting skills.
Also KS1 worked with with our year 6 sports leaders in a multi skills session practicing lots of different skills and gaining points for their houses.
Thursday 27th June - The busiest day of the week was saved for Thursday where the whole school spent the day on the field for our annual Sports Day. The sun was shining and the parents arrived in good numbers to support all the children. A very successful day where every child the school took part in different running races and some also did some throwing and jumping events. A big thank you and well done to all the children for a fantastic week participating in different sports and activities and for doing so well.
A BIG well done to our sports day winners fro the second year running! BEETHOVEN!!!
Corpus Christi Catholic Primary School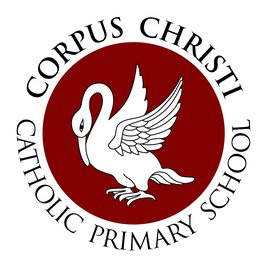 Welcome to Corpus Christi Catholic Primary School's School Games page. Here you will find information on our participation and achievements in sporting events throughout the academic year 2018/19.