The rain held out for a fun football festival
On Tuesday 18th June, seven very excited year 2 boys went to Kew Association FC to play in a football festival. The boys played 5 matches against other schools, winning 4 of them and drawing 1. Corpus Christi played some excellent football, working hard in each game and all the boys playing in a variety of different positions. Overall the boys had a great afternoon and for some of them was the first time they had represented Corpus Christi School. Well Done.
Results:
Corpus 5-2 St Lukes
Corpus 2-2 Christ Church
Corpus 4-0 Malden Parochial
Corpus 3-2 Fern Hill
Corpus Christi Catholic Primary School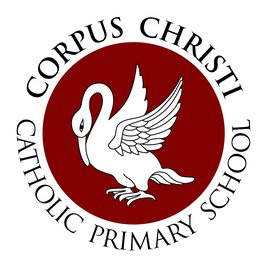 Welcome to Corpus Christi Catholic Primary School's School Games page. Here you will find information on our participation and achievements in sporting events throughout the academic year 2018/19.