A great afternoon for the Year 2 football team
Year 2 Football Festival
On Thursday 7th February 11 very excited year 2 boys were off to their first ever school football tournament, the boys were split into 2 teams for the festival and both playing 6 games each in total.
There was a total of 16 teams all playing 5 aside matches, enjoying themselves and playing with smiles on their faces.
Both Corpus Christi teams played excellent passing football with all players helping to defend and attack working really well as a team, scoring a combined total of 42 goals, winning 9 games and drawing 3.
Well done to the Corpus Christi Year 2 football team who were brilliant and represented the school excellently.
Thank you to Surbiton High School for organising and hosting such a well organised festival that all the children really enjoyed.
Corpus Christi Catholic Primary School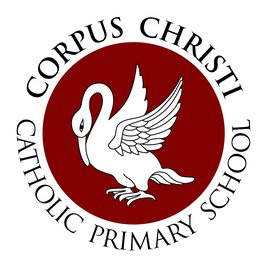 Welcome to Corpus Christi Catholic Primary School's School Games page. Here you will find information on our participation and achievements in sporting events throughout the academic year 2018/19.