Exciting morning of 6 aside football on Richard Challoner's 4G pitch!
On Tuesday 30th October, 14 children from Years 3 & 4 went to Richard Challoner to play football in the 'Challoner Cup'.
The tournament consisted of two 6 aside teams, playing in the Challoner Cup and Development squad competitions. Both teams played great passing football and worked extremely hard to compete well in all of their games.
Team A managed to score 8 goals over 2 games and only conceded 1; they played great attacking football and also managed to defend as a team really well. The team managed to win their games 7-1 and 1-0 and finished as the Challoner Cup winners.
The Development squad won their first game 3-2 and drew their second game 1-1; they played some fantastic attacking football and came out on top as the winners.
All 14 players had a great morning playing in this tournament and we thank Richard Challoner for a well-organised, fun morning of football.
Corpus Christi Catholic Primary School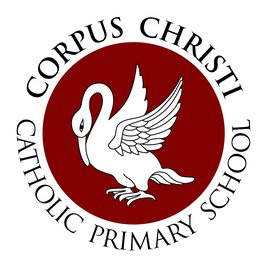 Welcome to Corpus Christi Catholic Primary School's School Games page. Here you will find information on our participation and achievements in sporting events throughout the academic year 2018/19.