Year 5 & 6 Girls & Boys Hockey Tournament
A great morning of hockey enjoyed by all!
Year 5 & 6 girls & Boys Kingston Schools Hockey Tournament
On Thursday 28th February 8 boys and girls went to Surbiton Hockey Club to play in a Kingston Schools Hockey Tournament.
19 Schools were taking part in the tournament split into 4 groups, with the top team from each group progressing through to the semi finals.
Corpus Christi started the first game very well winning 3-1 against Malden manor, then winning our second game 5-0 against Burlington playing some great passing hockey, being well organised in a good shape and utilising the space very well. After drawing our last game 2-2 with St Matthews we were through to the semi finals which was a great achievement.
Unfortunately after a very close and competitive game and Corpus Christi having lots of the ball we lost 1-0 to latchmere, and then went on to lose 3-1 St Pauls so finishing 4th overall which is a great achievement and being told that the highest a Corpus Christi team has ever finished in the Kingston schools Hockey Tournament.
Well done to all the children who took part, playing some great hockey showing a great attitude and work ethic and also representing our School excellently.
The tournament was also visited by a special guest, Great Britain and Surbiton hockey player Brendan Creed who was kind enough to do a Q&A for all the children and have pictures taken which the children found very exciting.
Corpus Christi Catholic Primary School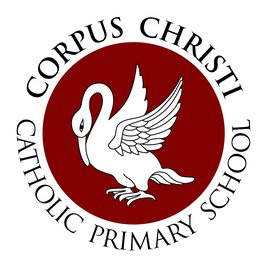 Welcome to Corpus Christi Catholic Primary School's School Games page. Here you will find information on our participation and achievements in sporting events throughout the academic year 2018/19.