Alice and Erin's Football Blog
Alice and Erin in Y6 have written a report from their recent football competition. Click the title to have a read!
FOOTBALL 1ST ROUND
On the Tuesday 13th November some year 5 and 6 girls took part in girls football at Stockton sixth form college also the home of Stockton own. There were seven teams and we knew it wasn't going to be easy. The line – up was: Alice, Jess, Ellie, Erin, Ruby, Bethany and Sophie. Our first match was against Christ the King; a match we won 1-0. We faced our toughest task yet, Tilery. Despite a 1-0 loss, we bounced back with a 6-0 win over St Gregory's with some brave saves from our goalie Alice. We showed great attacking options going forward. After we played Christ the King 2, our goal was to achieve what we had achieved last match.
We did just that with a 5-0 win. Unfortunately, we drew with St. Therese 2-2 that meant we had to win our next and final match to finish in the top 2. St Patricks was next we had to defeat them … we won 6-0! With Sophie, Erin, Jess and Beth all scoring brilliant goals. We knew we had done very well so we waited to see if we had got through… We had! Everyone had tried their best and it had paid off. Now we have the next round to play.
By
Alice B and Erin H.
Crooksbarn Primary School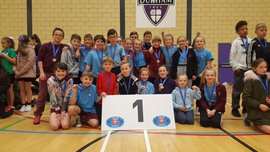 PE and School Sport form a huge part of enriching our curriculum at Crooksbarn. We are huge believers that active children are healthy, happy children. We strive to give our children positive physical experiences from the moment they enter our school in Nursery until they moment they leave in Year 6.
Want to find out more?
Visit the Crooksbarn Primary School website to learn more about the school