Crookbarn's Football Success
An excellent performance by the the Crooksbarn girls football team.
Girl's Football Victory for Crooksbarn
It was a cold, windy afternoon when the Crooksbarn's highly talented girls football team headed to nearby secondary school- North Shore.
There were many other teams. This was not going to be easy.
Crooksbarn played five very exciting games against very strong teams! However, Crooksbarn managed to score some brilliant GOALS!
After five tiring matches, Crooksbarn got ready to hear the results, and who had got through to the next round in February. The organiser read out the scores. Crooksbarn had come 2nd. THEY WERE THROUGH TO THE NEXT ROUND!
Well done Crooksbarn, you did brilliantly!
Crooksbarn Primary School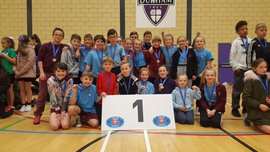 PE and School Sport form a huge part of enriching our curriculum at Crooksbarn. We are huge believers that active children are healthy, happy children. We strive to give our children positive physical experiences from the moment they enter our school in Nursery until they moment they leave in Year 6.
Want to find out more?
Visit the Crooksbarn Primary School website to learn more about the school