Crooksbarn through to the County Finals
Read the blog for up to date cross country information.
It was a muddy Wednesday lunchtime at Preston Park. Everyone was very nervous because if they got through this round then they would go to the Tees Valley finals.
Here we have some quotes from the runners:
"I am really nervous, but exited at the same time,"- Charlotte B, year 5.
"I am excited because I really wanted to know if I make it into the Tees Valley finals."-Jess G, year 6.
"I am feeling positive because of my achievement last year." -Oliver D, year 6.
"I am nervous because there are only two year four girls and I am one of them." -Ava B, year 4.
"I am feeling positive because I really like cross country. "-Louie T, year 4.
"I am happy to be at this race and to have come this far,"-Thomas C, year 5.
"I am very excited but nervous because I really would like to get through,"-Lolah Mann, year 6.
Highlight of the race
Alfie turner came 3rd but on the second lap his shoe came off. Everyone was saying he is not going to make it. Well look at him now!
Congratulations to everyone who made it through.
Well done Crooksbarn this is the best we have done so far!!
Crooksbarn Primary School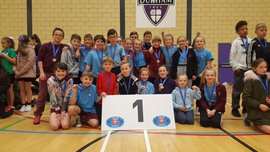 PE and School Sport form a huge part of enriching our curriculum at Crooksbarn. We are huge believers that active children are healthy, happy children. We strive to give our children positive physical experiences from the moment they enter our school in Nursery until they moment they leave in Year 6.
Want to find out more?
Visit the Crooksbarn Primary School website to learn more about the school