Crooksbarn World Cup 2018
Last week we held our very own World Cup tournament. We had great fun! Read Eve, Ellen, Harriet and Sophie's report here.
Power of The Pitch:
Our Crooksbarn world cup was on the 20th and the 22nd of June 2018, it was a hair-raising event that everyone enjoyed! Well done to everyone who took part in the world cup. It was an experience that our leaving year sixes will remember forever! Everyone did so well. Unfortunately, Brazil (who everyone thought would be in the semi-finals) were knocked out by the amazing Argentina.
This really was a spectacular event which the whole school watched, even ks1 managed to watch the quarter finals! Following on from this, the quarter finals teams consisted of sensational Spain, great Germany, marvellous Mexico and remarkable Russia. They all played fairly and wit enthusiasm.
All the games were exactly seven minutes giving the players not long to take part. So everyone was eager to get into the next round to perform their skills once more. On pitch one was Spain against Germany.Unfortunatly, there could only be one winner and today the winners were destined to be…SPAIN!!! And on pitch two the winners were Russia with 2-0.Well done Mexico you played excellently!
Next up was the semi-finals, in which Spain and Germany faced off in a test of speed and agility!!! With Germany in yellow and Spain in blue it was easy to tell who was taking the lead the victors turned out to be SPAIN!!!
Argentina and Russia battled out to be in the finals too. It was 0:0 till Russia came out on top with the help of penalties.
Then came the finals……Russia versus Spain, it was very intense everyone gathered around the pitch waiting in anticipation, hoping their team would be victorious. Russia scored!!! And in triumph they ran across the muddy grass with their arms held high in the air. And the winners of this match and winners of the world cup was…Russia!!
After the game there was a medal ceremony for the players.Fortunatly, Spain was awarded second place medals. Next up was the champion's trophy. As the team raised their trophy there was cheers from the crowd. Soon after most encouraging player was Millie Easby playing for brilliant Brazil! Then it was best player award which was given to Sharlet Baker! All in all it was an enjoyable two days for us all.
Written by: Ellen Irving, Eve Carser, Harriet Taylor and Sophie Hudson
Crooksbarn Primary School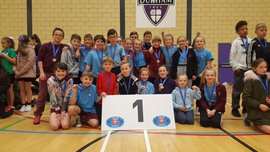 PE and School Sport form a huge part of enriching our curriculum at Crooksbarn. We are huge believers that active children are healthy, happy children. We strive to give our children positive physical experiences from the moment they enter our school in Nursery until they moment they leave in Year 6.
Want to find out more?
Visit the Crooksbarn Primary School website to learn more about the school