Crooksbarn's Cross Country Success
A report of Crooksbarn's recent triumphs in cross country.
It was a cold Monday afternoon at Grangefield Academy. 78 pupils from Crooksbarn (years 4, 5 and 6) attended a cross country competition at the secondary school. As most of the schools were only arriving, Crooksbarn made their way to the field that cross country was taking place on. Everyone placed their coats, bags and water bottles on the field. The organiser, Mr Sheehan, gathered everyone around him and told everyone where to run. Year 3/4 had to run two laps around the field which equalled 1200 meters. Year 5/6 had to run 3 laps which equalled 1800 meters. After Mr Sheehan had explained the directions; the competitors were ready to run!
First of all was the year 4 boys. Louie T started like a rocket. After the first lap, James G was catching up. Louie T was on a comeback. Louie managed to cross the finish line in 4th, and James G came 9th.
Next up was the year 4 girls. "On your marks…GO," Mr Sheehan shouted at the girls. Evie C started like a cheetah. On the second lap Ava B caught up to her. Great performance! Evie C came 5th and Ava came 8th. It's very hard to do 1200 meters in your very first cross country race.
Next was the Y5 girls. As soon as Mr Sheehan had said, "GO," everyone sprinted off. The girls completed the first lap easily. The second lap was harder. Crooksbarn were doing amazingly. "COME ON CROOKSBARN!" the crowd began to chant. Soon, Crooksbarn were all over the leader board. The first person crossed the finish line: CHARLOTTE B! Followed by: Nieve G (2nd), Paige P.B. (5th), Sienna B (6th), Alice H (7th), Lucy F.S. (8th), Katie B (9th) and Sarah S (10th). What a performance from Crooksbarn. Eight girls from Crooksbarn finished in the top 10 WOW.
Next up was the year 5 boys. The all started off like the girls (very fast). They also completed the first lap easily. The second and third weren't as easy as the first. Tomas G was storming ahead in first place, and with great surprise... HE MANAGED TO KEEP THAT PLACE! The crowd went wild. This was the first time that day that Crooksbarn had someone in 1st place. Alfie T came 3rd place. Jem C came 4th. Indie C in 6th place. Thomas C in 8th place and Lewis D in 9th place. Wow 6/10 a stunning finish from year 5.
After a bit of a mix up, it turned out the year 6 boys and girls were racing together. Everyone started off by sprinting, although many contestants got tired after the first lap. Oliver D, Oliver B, Jess G and Lolah M, along with many other competitors, were determined not to give up. All that determination payed off and Oliver D, Oliver B, Charlie H, Tom R, Lolah M, Grace L, Ellie G and Jess G all finished in the top ten.
Well done Crooksbarn, you really showed off your amazing talents. You all did so AMAZING!
Crooksbarn Primary School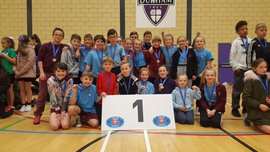 PE and School Sport form a huge part of enriching our curriculum at Crooksbarn. We are huge believers that active children are healthy, happy children. We strive to give our children positive physical experiences from the moment they enter our school in Nursery until they moment they leave in Year 6.
Want to find out more?
Visit the Crooksbarn Primary School website to learn more about the school