Lucas' report from our recent football competition.
On Monday 1st October, 19 children from year 5/6 went to North Shore Academy to play a football tournament. There were two leagues: league 1 and 2. We were split into two teams, which were team A and Team B. Team A was in league 1 and team B was in league 2. Both teams came 2nd and unfortunately didn't get through to the next round, however there was some great football played with goals from Lewis, Kristian, Max H and Sam C. There were also some great saves by Zak and Charlie.
By Lucas Winter
Crooksbarn Primary School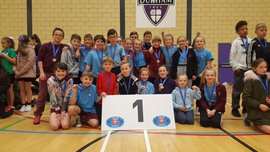 PE and School Sport form a huge part of enriching our curriculum at Crooksbarn. We are huge believers that active children are healthy, happy children. We strive to give our children positive physical experiences from the moment they enter our school in Nursery until they moment they leave in Year 6.
Want to find out more?
Visit the Crooksbarn Primary School website to learn more about the school