We have recently selected our Y6 Sport Leaders for this year. These leaders were selected based upon the enthusiasm and interest they had shown towards school sport during their time at Crooksbarn.
Crooksbarn Sport Leaders
Our new Sports Leaders have been chosen! The chosen six for this year are Lacey, Owen, Eve, Scarlet, James and Luke. These children have a wide range of interests and skills and will play a huge role in improving sport and physical activity in our school. 
The children have already attended a Leadership Academy training day, ran by Stockton School Sport Partnership, and have returned to school extremely enthusiastic to get started. During the training, the children learned how to encourage children to be active, set up warm up activities, promote their role in school and how to run sport competitions.
Their first challenge has been to find a 'buddy' in Y6 who they can share their training with. Next week, the leaders will be setting up a skipping challenge for KS1 and KS2 children. This will contain three elements; a solo, paired and group challenge. We will share personal bests and winners between now and Christmas on our Twitter page, @crooksbarnpri. 
The children will also be looking for ways to promote themselves both in and out of school. We are looking forward to what they come up with!
Crooksbarn Primary School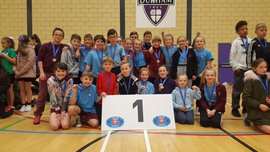 PE and School Sport form a huge part of enriching our curriculum at Crooksbarn. We are huge believers that active children are healthy, happy children. We strive to give our children positive physical experiences from the moment they enter our school in Nursery until they moment they leave in Year 6.
Want to find out more?
Visit the Crooksbarn Primary School website to learn more about the school