Christmas is approaching and that has inspired some great Active opportunities!
As we draw toward the end of the Autumn term:
We've had some fun making some relevance and meaning to our lessons, by linking to the season that is festive for now: Christmas!
With Animal Character moves in Reception's Physical Development sessions. Including underarm throws into hoops to create snowman's face!
Hula huts as igloos in a team target game to close the final P.E. Clubs of the Autumn term. Along with musical statues to Christmas hits for those who prefer to move to music!
An amazing Reindeer Herd of runners on the heartline running a mile at lunchtime - Year 1 and Year 2 Superstars - they have the running bug after enjoying the Active Mile Week.
And here is a summary of some of the brilliant people, we can applaud, too:
👏 To everyone who has been collating walkers or has been one of our Walking Super Heroes! Well done to all the children who earned a badge - thanks to Living Streets for the resources! 👏To our UCLAN Sports and PE students who have been enhancing our PE experience - with their placements on a Monday and Tuesday. 👏To Zane Billington as the recipient of the PE Star of the Galaxy for the Autumn term so far 👏To our little leaders who have been counting and recording the super catching skills on the infant yard at lunchtime 👏To our team of 20 athletes who competed at the Preston Indoor Athletics competition at UCLAN
Big thanks also goes to Miss Frew who has kindly been covering Mrs Dixon and will be continuing to do so after the Christmas Holidays. As Mrs Dixon's maternity commences.
Disclaimer - that's not our door display although we have used it as inspiration for ours!
Eldon Primary School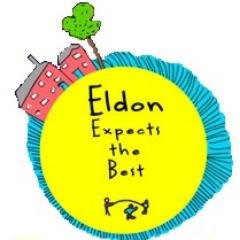 Eldon expects the best...Let's be the best that we can be!
Want to find out more?
Visit the Eldon Primary School website to learn more about the school