Climbing mountains - self reflection - Year 6 Sport Education .... and something exciting is coming
The children are enjoying the sunshine with opportunities in lessons and at breaks, with the return of the active aces.
Summer term has got off to a flying start with the children all accessing their P.E. lessons with enthusiasm. The Year 6 are enjoying the first Sport Education unit delivered here at Eldon, with Mrs Perry using a fantastic resource from the P.E. Umbrella to support this. Final squad preparations are in order next lesson as the season will shortly be underway. A trophy and medals for the champion team is on its way too!
The Year 4's have been enjoying learning how to work together to exchange the baton in a relay during part of their lessons. They enjoyed a sneaky peak at the World Class athletes at the 2021 World Athletics Relays held in Chorzów, Poland , on BBC iplayer as part of their learning.
Some classes have been using the reflection mountain to evaluate how far they have come in each lesson, as individuals. With the aim to meet the objectives shared at the start of the lesson by traversing the complete ridge! This has been a great prompt for some constructive discussion and building of self efficacy, as sometimes some children don't realise just how far they have travelled until we share some of the journeys!
Personal best and individual challenges are happening during playtimes too, thanks to our incredible Active Aces. With the Captain Tom 100 challenge prompting some ace endeavours including Year 3's 100 speedbounces, star jumps and hopscotches; and Year 4's skipping 100 times in a row (with a rope).
All the school are excited as our Forest School has now been enhanced with the opening of a marvellous multipurpose lodge - 'The Burrow'. This will open up so many more opportunities for the children to learn outdoors AND something else is about to be built on the site.... which is equally as exciting... More to follow on this in a future blog.
Big thanks to Ryan Ellis of the PE umbrella for the quality resources from his site.
Eldon Primary School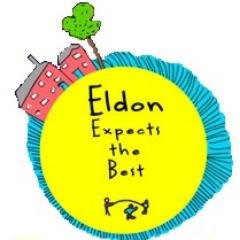 Eldon expects the best...Let's be the best that we can be!
Want to find out more?
Visit the Eldon Primary School website to learn more about the school