Green space and a track for Eldon 💚
Active Learning day, NSSW and the launch of the track 😁
Wednesday 23rd June was special for many reasons. It was the day all the children had the chance to travel the 0.5mile from school to have fun and run on the new trail run style track.
Every child from nursery to y6, as well as staff and volunteers, took part throughout the day over Ten Minute Missions to run or walk around the track. Amazingly amassing a total mileage of 165.5 miles! Each class also had a mission to try and reach marathon distance. Several came tantalisingly close!
The track launch formed part of many activities across school sports week.
Here are the posts shared with the school community across the week…
Health Week Day 1
National School Sports Week : Pause to Play 🧘‍♂️
Good morning,
Movement doesn't always need to be intense to be beneficial.
The theme for NSSW today is Pause to Play. So consider building in some mindful movement movements.
Try:
🌍Walking barefoot in a safe place - connecting to the surface and 'feeling' the ground through the feet.
👃 🫁Mindful breathing / Pause to notice the breath. Notice where you feel the inhalation and the exhalation. To aid relaxation lengthen the out breath. Breathe through the nose.
☁️Be still and cloud spot ☁️, what shapes are the clouds making?
🕊Or nature spot on a gentle walk.
More ideas can be found here: look for 'Mindfulness Monday' including a link to a yoga session.
Have a great start to the working week. 🙂
https://www.lancashireschoolgames.co.uk/files/documents/national-school-sport-week-2021-resources.pdf
Health Week Day 2
NSSW- Football Day ⚽️🥅
The theme for today is Football and the Reception PE club will enjoy kicking and scoring goals today.
We'll also be trying some keepie uppie skills during lunchtime and play too ⚽️
Maybe the football theme could be extended at home? How about a family kick about , or maybe your child might invent their own cheer chant and dance to cheer on England as they play in the Euros 21 tonight!
😁📣
England v Czech Republic at 8pm ⚽️
Have a happy Tuesday
Health Week Day 3
NSSW Olympic Day 🥉🥈🥇
Extra news! From the PE perspective…
Today we'll be inspired by the Olympic and Paralympic values as we open our new TRACK. We are so excited to enjoy this amazing resource 🎉 and will be counting all the laps done today; to see how many marathons and miles we complete!
In doing so we'll explore and demonstrate these values:
🔵Excellence
🔵Friendship
🔵Respect
🔵Courage
🔵Determination
🔵Inspiration
🔵Equality
In school the children will be enjoying Active Learning opportunities in their English and Maths lessons too. As today is also Active Learning day 😁
Have a wonderful Wednesday
Health Week Day 4
NSSW theme Olympic events
After a wonderful time at the track yesterday. Today the children will have the chance to try the Olympic athletic event of javelin during their lunchtime play.
In PE this afternoon the Year 4's will be taking part in a mini pentathlon- another Olympic event.
Year 5 will be logging their runs from yesterday on the Get Set travel to Tokyo website too:
This opportunity is open to families too! 👀
https://www.getset.co.uk/travel-tokyo
Health Week Day 5
NSSW Appreciation and opportunity
Happy Friday 🤩
Today's theme extends beyond today and into the weekend.
What activity can we be grateful for?
🌳 walks in Moor Park
⚽️ games in the park
🐸 Trampolining on the garden
🐶A walk with the dog
🔵 A soft play area
♥️ Brockholes and its amazing play area
🏔 A hike up Jeffrey Hill
🚴 A whiz around the Guild wheel
And who can we thank for providing opportunities to be active?
🔵The lunchtime supervisors - helping the active aces with organising personal challenges and games
🔵The volunteers at Avenham Junior Parkrun?
🔵The coaches at Preston Harriers -an athletics club based here in Preston (this may be of interest to those who enjoyed the track!)
🔵 The volunteers who help run other sports clubs open to Eldoners? 🏏 ⚽️ 🥋 💃🏼
Have a think about the opportunities in and near Preston to be active!
Pursue one over the weekend?
Have a great active well-being weekend 😁
A few families held their own Sports Days at home too 🙌😁
Next …. We are looking forward to Sports Day in July. We are planning something safe, fun, competitive, inclusive and rewarding for all involved 💪
Eldon Primary School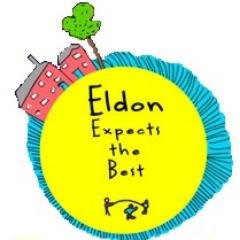 Eldon expects the best...Let's be the best that we can be!
Want to find out more?
Visit the Eldon Primary School website to learn more about the school