Growing Together, New Clubs and the European School Sports Day
We are 27 days into September and so much to report already. Themed lessons, Clubs, and ESSD!
The first two weeks of term P.E. lessons followed two themes - those of The Tokyo 2020 (21) Olympic and Paralympic Games, and the whole school theme of 'Growing together'. The children linked their class topics to movement with activities offering double and triple learning wins. Collaboration and teamwork grew with the children using equipment to make a 'Garden' and then devise a 'Game' to play with the the equipment in the garden, children showed their awareness of different types of games - some linking their experience to games they play online, personal relevance! The children also developed stamina, and agility in a simple shuttle relay game where the gardeners would sow seeds only for the birds to sprint and retrieve their seeds from the gardens. Learning about the hazards of gardening! In the Tokyo themed lessons the children experienced seated volleyball and goal ball, along with learning a new game to play at playtimes and in warm ups - Volcano tig !
Our new Get Up and Go running Club has started well. With Miss Frew and Mrs Dixon supervising the early club. Mrs Perry almost wishes she worked mornings so she could join in!
Our other clubs run for the school groups throughout the week - (we are still midst Covid 19 risk mitigation so are still adapting our provision)
Our clubs follow these themes; (taken from information for families)
' Themes for the 3 clubs - 🏆 Competition and Challenge Club - preparation for competitions which we hope to have access to in the coming year. 💪Super Skills for Sports Club - a chance for children to work on what they feel they want to master and improve to be at their best. 😻Joy to Move Club - a session that focuses on finding what types of movement make us feel joy and happiness.
Activities available will all be age appropriate variations on sports and activities such as mindful movement, Dance, Gymnastics, Games, Athletics, and more!
Days for clubs are: Monday- Y5 & 6 Tuesday - R (this club will start after the children have settled in school - date to follow) Wednesday - Y3 & 4 Thursday- Y1 & 2 '
The European School Sports Day was a whole school community effort in ensuring the children benefited from 2hours of purposeful movement within the day. Huge kudos goes to the families who embraced Active Travel for the day with children arriving in a variety of modes. Ester in year 3 running though the park to school, Reggie and Mason hiking over a mile to arrive, the Manser family and Ziad in Year 3 scooting to school. These along with many others walking rather than using the alternative of fuelled vehicles. Oliver in Year 1 is even planning to skip to school this week.
Active Learning opportunities were embraced by class teachers who used movement magic in many ways: Ks 1 used movement to develop focus with online yoga classes. Mrs Steven's inspired her mini historians through role play and battle re-enactment!⚔️ Miss Mughal brought learning to life with human out door number lines, and through the BBC Supermover's 'Punctuation' and 'Inverted Commas' dance . Reception children went on number and grapheme hunts on the infant playground, and were introduced to the heart line, for some walking and talking about their learning!
Active Play and Sport were embraced during play times, as they always are! With Mrs Perry coordinating the actions with Mrs Patel, Miss Member and Mrs Batiya on the Ks1 and EYFS yard. The children stepped up into their Active Ace roles and supervised the gym beautifully and other games and challenges. Mrs Patel oversaw safe swinging as the Year 1 and 2 children used the softball tee to whack the ball far and fast for fun, while Miss Member and Mrs Batiya oversaw skipping challenges, and Mrs Perry led a game of Fireball.🔥☄️
Miss Frew and Mrs Dixon worked with Mrs Brookes, Mrs Patel, and other pupil Active Aces to provide personal best challenges, and opportunities to assist in officiating and playing invasion games for the Ks2 children. Some great upper body and core strength was shown as the children heaved up onto the trim trail tyres.
All in all a great day for all! 😄😄😄
Eldon Primary School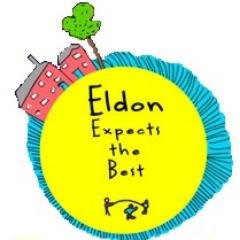 Eldon expects the best...Let's be the best that we can be!
Want to find out more?
Visit the Eldon Primary School website to learn more about the school