Harry inspires, part of a super Story Telling Week at Eldon
The P.E. with Stories Day as part of a whole school wonderful week devoted to National Story Telling Week inspired many of the children to #BelikeHarry
During and after the day the children shared how they had been like Harry.
Here is the original story:
Harry the hero
On Brunswick Street there was a lull in the air.
Everyone indoors, to stay safe there.
Except Harry's mum who was out even more;
Always seemingly tired when she came through the door.
Harry, a hero, because he found out;
Much can be gained just from moving about.
Harry, discovered, that for 60 minutes each day;
His body loved moving, in sport, leisure, or play.
P.E. at home tasks, on the ClassDojo
Became the essence of Harry's mojo!
The laughs and the smiles while he challenged himself.
All led Harry along, a road to health.
His mind was clear. He slept well at night.
When tackling hard tasks; he was prepared for a fight.
Once he had learnt movement was just so essential.
Harry sent others towards their athletic potential!
Everyone he knew caught the exercise bug.
Biceps were bulging, as kids lifted their mugs.
Like a boy on a mission, Harry's message was clear:
Exercise your body, and improve your skill.
Once you've climbed today's mountain, then you can chill.
Get up off that sofa, put the lap top screen away.
Put the phone onto silent for an hour every day.
Try throwing and catching an old pair of socks.
Try carrying, stacking, and running with rocks.
Take the stairs up and down until you count to twenty.
Take a walk for a start, that will help plenty.
A new pandemic hit the street and the place.
One that brought a smile to each person's face.
People were moving, as they would dance, run and play!
Even the adults joined in for 60 minutes each day
With Harry to thank, he was called to the Queen.
For adding a boost to the exercise scene.
Sir Harry arose, his mum smiled at the fun.
When Harry invited Prince George for a run.
Eldon Primary School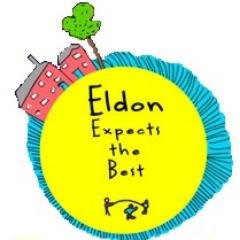 Eldon expects the best...Let's be the best that we can be!
Want to find out more?
Visit the Eldon Primary School website to learn more about the school