PE AND SCHOOL SPORT LEADER
OUR TERM IN PE AND SPORT!
It has been a fabulous term for Team Garlinge! Our values focussed lessons have continued to help our pupils to put learning first! Skills and personal qualities have developed throughout the school making our PE fun for all! We will celebrate our achievements with our term 1 intra school sport week next week.
Our inter school competitions and festivals have been a source of joy for all. Seeing our football squads use teamwork and perseverance to bring about a succession of victories has been amazing & our 87 cross country runners gave 100% in every race! The netball team is shaping up nicely and the basketball squad is preparing for the first of our Kent School Games qualifiers next term, as are our Sports hall Athletics teams.
Can't wait for term 2!
Garlinge Primary School and Nursery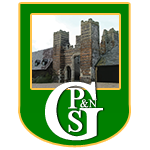 Our school is situated in the seaside town of Margate. We have a passion for sport and love to compete. Follow us on twitter @TeamGarlinge
Want to find out more?
Visit the Garlinge Primary School and Nursery website to learn more about the school