Read our report and watch the video on our first kata championship!
At the start of the term, Nicola (a karate instructor) taught us how to be karate ninjas by telling us about the kata. First, we learnt the basics (punching, burps and touch toe sparing). We practiced the kata and it all payed off!
Nicola put the classes into groups and we did the kata in our classes. When we were competing as a class we were asked to sit on either the left or the right side of the hall depending on if we won our kata or not. Each class had competitions in their classes to pick which children would represent the school at the championship, there were 5 people from Y4, 5 from Y5 and 7 from Y6.
Astmoor present day, we arrived at the school that hosted the competition. There were four schools in the competition: Astmoor, Oakfield, The Brow and us. We were put into our special order so we could compete against other schools. We saw Michelle do a kata at the start of the tournament. Michelle went to the Common Wealth Games and came home with a bronze medal. Her kata was amazing she looked very powerful and strong.
Most of team MWCP got through to the second round and Lizzy and Ryan got through to the semi finals but Lizzy got knocked out which left Ryan in the final kata against Astmoor. We (all of Team MWCP) had our fingers crossed throughout Ryan's kata. When both Ryan and Astmoor had completed their kata we sat and waited for Michelle to make her decision, the hall was silent! Michelle lifted the blue marker to say that Ryan had won. We all shouted and clapped, we were SO excited! RYAN WON!
We all got a medal for participating and then third place was presented and Lizzy got her bronze medal, Astmoor received a silver medal then Ryan got his gold medal and a trophy for the school trophy table. When we got back to school everyone was happy for us! It was KATASTIC!!
Murdishaw West Community Primary School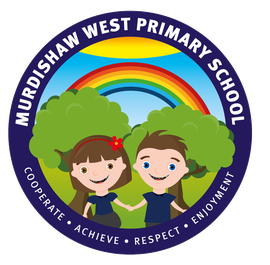 At Murdishaw West we have a set of clear values which permeate everything we do. We are very proud of how our children reflect these values and know that they will carry them forward.
Want to find out more?
Visit the Murdishaw West Community Primary School website to learn more about the school