Yesterday, we took part in the KS2 Runcorn swimming gala and the children did fantastically.
We don't have many children who are part of a swim club or participate in swimming lessons outside of our school ones so we had a team of first-time competitors. We took four boys and four girls from Year 5 and 6 and we entered every race. Our swimmers showed a huge level of sportsman ship cheering on each other and other schools when it wasn't our heat. It was great to see them all getting into the spirt of the event.
When it was our turn to compete in the heats we put in 100% effort both in the pool and on the side of the pool cheering. Our girls team worked so hard and considering non of them had ever competed in a swimming event they did an awesome job and still came out of the pool smiling, proud of their achievements.
The boys successfully got into the finals in 25m freestyle, breaststoke, backstroke and the 4x25m relay. The look on their faces when they were told they had got into the finals was something we wish we had caught on camera. Once again, the boys did an awesome job and we had two individuals finish in the top three!
It was a great afternoon that wouldn't have been possible without Halton Swimming Club so we would like to thank them for their support in the gala, a special thanks to Miss P from Gorsewood for taking n the mammoth task of score keeping and as always a thanks to Joe for organising another great event.
Murdishaw West Community Primary School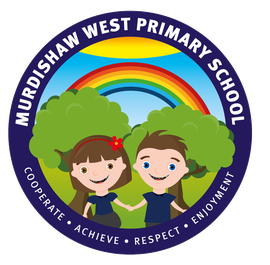 At Murdishaw West we have a set of clear values which permeate everything we do. We are very proud of how our children reflect these values and know that they will carry them forward.
Want to find out more?
Visit the Murdishaw West Community Primary School website to learn more about the school