This week has been National School Sports Week and there has been lots going on in school. Please read our report to find out about Sports Day!
On Thursday 27th June we had our Sports Day with lots of different activities all scored with 10 points for coming 1st, 7 for 2nd, 5 for 3rd and 3 for coming last. At our school we have 4 teams, they are: green, red, yellow and blue. During Sports Day we don't wear our PE kits, we wear our team colours.
There were lots of activities such as discus throw, relay race, target shot, netball shot, hockey dribble race, beanbag throw and standing long jump. During the different events we had a break where they had bananas, apples, blackcurrant juice or orange juice which our local Co-Op provide which is really kind.
Our first event was the discus throw, what we had to do was throw a discus and aim for number 10 on the scoreboard but if we threw it past ten we would score zero points. Red team won with 40 points, green team earned 21 points and came 2nd, yellow came 3rd with 19 points and blue earned 14 points and came last. In the end red got 10, green got 7, yellow got 5 and blue got 3 points.
The second activity was the netball shot, here we had to throw a netball into a hoop and if you score you get one point and the team in the end wins. Green team came joint first with red team, yellow came joint 3rd with blue team. Blue team and yellow team got 0 netballs in the hoop, green team and red team got 1 netball in the hoop. In the end blue and yellow got 5 points, red and green got 10 points each.
Our next event was the relay race. Members from each team had a baton and had to run down the field to pass the baton to the next person who had to run and pass it to the next teammate who ran to the end and everyone sat down. Green team won both relays and earned 10 points, red came second on both and earned 7 points, blue came 3rd and earned 5 points and yellow lost with 3 points. For the second relay no one earned points because it was just for fun.
There were many more events but now…the results! In 4th place was blue team, 3rd was yellow team, 2nd was red team and first was green. Green won!
We all enjoyed ourselves and green team got to do a winners victory length while people took pictures of them with the trophy at the end. Everyone enjoyed the day and all the teams showed great school games values!
Murdishaw West Community Primary School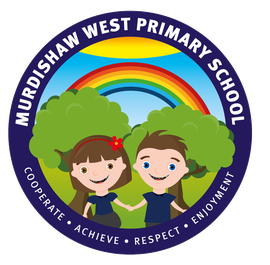 At Murdishaw West we have a set of clear values which permeate everything we do. We are very proud of how our children reflect these values and know that they will carry them forward.
Want to find out more?
Visit the Murdishaw West Community Primary School website to learn more about the school