What a start to the year!
A quick blog to sum up what has happened at MWCP this term in terms of PE and school sport!
What a fantastic start to 2018/2019 we've had at MWCP! Autumn term has been jam-packed with activities and competitions for team MWCP. We've had children competing, staff competing outside of school and the completion of our autumn personal challenges.
We have competed in a variety of inter-school competitions: mini football for years 3, 4, 5 and 6; sports hall athletics for upper key stage two in early November; futsal at the Grange in mid-November; inclusive new age kurling in mid-November; a Kata championships for years 4, 5 and 6. All the children who participated in these inter-school competitions worked incredibly hard and for some it was their first time representing the school at a sports event.
After each event a member of the team was asked to write a match report for our School Games blog so you can see further detail about the events in our blog or by searching for #MWCPSport on twitter. This has been a fantastic way to give purpose to children's writing and build in cross curricular links.
I'd like to mention how impressed I was with our new age kurling team who took part in the competition having not tried the sport for over two years. They worked hard and showed fantastic teamwork and respect for all participants throughout the competition.
When we entered the futsal competition in mid November we weren't really sure what it was but with a little bit of help from a local futsal coach we entered a team into the Runcorn Futsal Festival and they blew me away with their skill, communication and sheer determination. They played so well that they won and will now represent Runcorn in the Merseyside School Games. Needless to say the team arrived back in school so excited and continued to celebrate their victory throughout the afternoon. Children enjoyed futsal so much there are a few children who are hoping to attend the local futsal team's training sessions.
Another highlight was indoor athletics. The whole team worked so hard and the level of support they had for each other was prenominal. Not a single member of Team MWCP arrived back in school that afternoon without a sore throat from all the cheering they had done.
Throughout the term years 4, 5 and 6 have been working with an instructor from Heys Karate Academy training towards participating in a kata championships against other schools in the area. This was our final competition of the term and the children performed brilliantly. They developed a great sense of discipline, skill and respect throughout their training sessions working towards their final competition. The children were selected to represent the school by the instructor through an intra-class competition. We then entered 17 individuals into the competition and we had many children get through to the final few rounds. The team all supported each other and celebrated every win. Everyone who participated came away with a medal and a huge sense of pride. We had one member of our team win a bronze medal and as the children said it was 'katatastic' that we came away with the gold medal too!
In addition to our inter-school competitions our sports ambassadors have helped organise a series of intra-class football competitions. They took on the role of the referee during the games and made sure each team was clear on the rules and expectations. The children in KS2 that took part in the competition all really enjoyed the competitions and it was great to see children who wouldn't always want to take part in a competition outside of school want to join in in school.
The sports ambassadors have had the challenging task of identifying people team captains in each class. It was decided that the team captains should show good school values and school games values. Next term these school captains will work with the sports ambassadors to decide on another set of intra-class competitions for both KS1 and KS2. These will be announced when we come back in to school in January.
Our extra curricular activities have been focused on KS1 and KS2 this term however after Christmas EYFS will be invited along to our KS1 multi-sports sessions. We will be asking the sports ambassadors and the team captains to help us review the extra-curricular activities that are on offer for each class.
Throughout the school we have had children jumping, skipping, singing and dancing each day when they have been taking part in their Go-Noodle activities, wake up shake up and music and movement as a way to get active in class. This is something the teachers have worked hard to incorporate into their time table and if you happen to be walking past you will also see the teachers dancing around their classrooms too!
All of the children who have participated in the activities that we have offered this term should be so proud of themselves. They have shown a great skill level, respect for each other and a superb 'have-a-go' attitude. I'd also like to say a massive thank you to all of the staff who have embraced PE and physical activity and encouraged our children to get active and try their best. I'm looking forward to seeing what Spring term brings!
Murdishaw West Community Primary School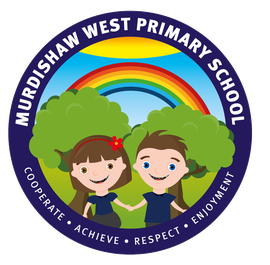 At Murdishaw West we have a set of clear values which permeate everything we do. We are very proud of how our children reflect these values and know that they will carry them forward.
Want to find out more?
Visit the Murdishaw West Community Primary School website to learn more about the school