Boccia - Year 5/6 at The Arena Friday 20th October 2017
Runners-up for A-Team at Boccia event
On Friday 20th October, 3 teams from Southway Primary attended a Boccia  event at The Arena.
The children were put into 3 teams of 3 and had to compete against other schools over several rounds in 3 different groups.
The winners and runners-up from each group went through to the Semi-Final and then Final.
Some of the children were nervous before the event as they had never played Boccia before. After a brief demonstration, the children then had a quick practise before competing in their first round.
After some initial nerves, the children began to grow in confidence and started to work together as a team to try and get the highest score possible.
When all the rounds had been completed, the children waited with anticipation to hear the results and if they had gone through to the next round. 
Team A and Team B finished 5th and 6th in their groupoverall and were delighted with their results.
Team C came first in their group and qualified for the Semi-Final which they won!
All of the children watched the final where Southway Team C lost 2-1 to St. Anthonys Team A. 
Team Captain Alfie Duffett was delighted with the results. He said,
'We did really well to reach the final because we have never played Boccia before. I would definitely play it again'
It was  a wonderful event where the children showed fantastic team spirit throughout and determination not to give up.
Well done to Krystal, Ella, Reuben, Azael, Lily, Bradley, Holly, Alfie, Luca 
Southway Primary School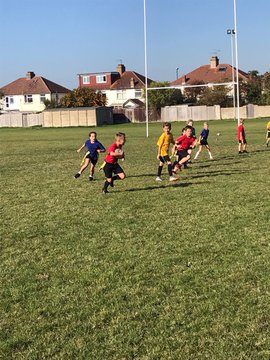 We are a three form entry primary school with 630 pupils and a Nursery.