Abbey Primary School
"A caring, sharing, achieving school, always giving our best"
At the heart of our vision for Abbey lies the child. All children are different all children are special and should be treated as such. Our primary purpose is to enhance the quality of children's learning through the effective and efficient delivery of the curriculum. We are committed to honesty, sensitivity and responsibility in all relationships. We will adopt a philosophy of continuous improvement in every aspect of the school's work and life 
School Games Mark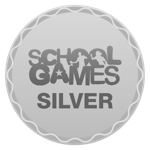 Abbey Primary School achieved Silver award in the most recent year School Games Mark was awarded.
Competition report- EFL U11's Kids Cup
Abbey Primary have taken part in the annual U11's EFL kids cup. This competition takes place over a set of rounds with this Monday (4th December) being the first round. Abbey Primary faced 4 teams: Sherwood, Cuckney, Morven Park and Farmilo. The team worked hard and finished top of the group winning 3 games and drawing one.
Match report- Abbey Primary vs Forest Town
Abbey Primary played their first league game of the year against local rivals Forest Town Primary. The two teams played out a dramatic draw with a last gasp goal from Joshua Dove cancelling out Forest Town's early opener.
Recent events
Dance Festival
29th June 2022
B2022 Dance Festival celebrating the opening ceremony - Colour of Dance Festival
County KS2 Boccia Competition 2022
24th June 2022
County Finals held in Gedling in 2022
Euros Girls Football
7th June 2022
Yr 3/4 Womens Euros celebration. School encouraged to support the Women's Euros and compete in a festival as a Euro Country. Skill and drills followed by small sided games.
Want to find out more?
Visit the Abbey Primary School website to learn more about the school