Castlecroft Primary School
Enjoy & Achieve
Aims and values of the school
'Enjoy and achieve' is at the heart of our aims for our children. From their first days in our Nursery to the day they leave us for Secondary Education, we aim to ensure that their Primary years are enjoyable, stimulating and successful and are a firm foundation for their lifelong learning.
We, at Castlecroft, are concerned with the education of the whole child. We aim, above all, for each child to develop fully to his or her potential by promoting an ethos of inclusion and providing equality of opportunity throughout the curriculum. Our aim is to provide skills and knowledge for the children to understand the world around them and give them the life skills to prepare them for adult life. We aim to develop young people who are confident, independent learners, who have high self esteem, high aspirations and who have experienced success and enjoyment in school. We aim to support each child to have positive attitudes about themselves, and to become socially aware, caring members of our society.
Breadth of experience and opportunity is key to our educational provision here at Castlecroft. We support personalized learning in which children are given a range of opportunities to develop their strengths and talents and realize their potential. We aim to deliver a broad and balanced curriculum which promotes the spiritual, moral, cultural, mental and physical development of the pupils at the school and prepares them for the opportunities, responsibilities and experiences of adult life and fully equip them for life in the 21st Century.
Through our breadth of opportunity, we aim to achieve, for all our children, the key outcomes of the Every Child Matters Government vision: Be healthy Stay safe Enjoy and achieve Make a positive contribution Achieve economic well-being
School Games Mark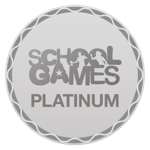 Castlecroft Primary School achieved Platinum award in the most recent year School Games Mark was awarded.
Recent events
Netball League
3rd October 2022
Year 5/6 netball league
Girls Football League
19th September 2022
Year 5/6 girls football league
Football Leagues
19th September 2022
Year 5/6 boys football league
Want to find out more?
Visit the Castlecroft Primary School website to learn more about the school