Cherry Orchard Primary School
Welcome the Cherry Orchard's School Games Page - We care, We learn, We succeed!
Here at Cherry Orchard, we are a school committed to the involvement and enjoyment of sports and games. Each half term, we learn an indoor and outdoor sport or game. We love to complete each half term with interhouse games in order to consolidate the learning over the half term. As well as this, we have competition week, usually in February and end the year with our School Games Day!
School Games Mark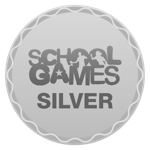 Cherry Orchard Primary School achieved Silver award in the most recent year School Games Mark was awarded.
Recent events
Summer themed weeks: National School Sports Week
21st June 2021
The fourth of our themed weeks in the summer to support the return to school for all pupils. SGO's will send the activity packs out to school via email.
Year 6 Dance Festival
18th June 2021
Year 6 Dance Festival - Dance 2 Rio II Schools can use resources sent to schools OR use their own idea - video class dance and share with SGO by 18th June 2021 for virtual inter-school competition This is to encourage fun and friendship - but follow COVID distance rules / recommendations Scores will be given for timing, costume and originality section - All schools will be part of an inter-school competition
Year 5 Key Steps Gymnastics
18th June 2021
Year 5 Key Steps Gymnastics - Floor Routine Schools to complete Key Steps 3 Gymnastics Floor Routine (Schools can ask to use Key Steps 2 Floor Routine) Young Leaders to judge competition Schools video best 6 gymnasts and submit for inter-school virtual competition to be judged by SGO and 2 other nominated judges - video access needs to be available by 18th June 2021. See information sent to schools about virtual judging dates etc. Participation numbers as requested need to be sent to SGO by 18th June 2021
Want to find out more?
Visit the Cherry Orchard Primary School website to learn more about the school