Deighton Gates Primary School
Deighton Gates Primary School is located in Wetherby, North Yorkshire.
Having received the GOLD school games mark for the past 2 years, we are hoping to sustain it for a 3rd year and then move on to achieve the PLATINUM award. As a school, we take part in many competitions throughout the year and are lucky to have talented children to participate in the team events. 
School Games Mark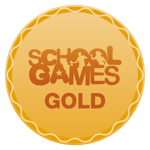 Deighton Gates Primary School achieved Gold award in the most recent year School Games Mark was awarded.
Recent events
SHA SF 1
2nd December 2019
SHA SF1
SHA wetherby Heat
21st October 2019
SHA Wetherby Heat
Leeds Schools Netball U11 League
16th September 2019
Citywide U11 League
Want to find out more?
Visit the Deighton Gates Primary School website to learn more about the school