Farley Junior School
Farley Junior School
Students at Farley Junior School participate in the School Games to help develop and broaden their physical literacy.
Our sports programme encourages pupils to engage in competitive sports and to follow the School Game values of;
respect
fairness
honesty
determination
teamwork
self-belief
School Games Mark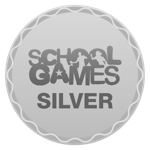 Farley Junior School achieved Silver award last year.
Recent events
Year 5&6 Dodgeball
31st October 2018
Year 5 & 6 dodgeball tournament
Indoor Cricket League
3rd October 2018
Indoor cricket league for years 5 & 6
Year 3&4 Rounders
11th July 2018
Want to find out more?
Visit the Farley Junior School website to learn more about the school