Flora Gardens Primary School
Flora Gardens is a one form entry school with around 220 pupils ranging from Nursery up to Year 6. We currently have 3 after school clubs per day available for all pupils from year 1-6.
Flora Gardens currently run inter-house sports competitions every lunchtime. The sport changes every half term and each week is dedicated to a specific year group to fulfill their fixtures against opposition houses. Results get added up and points that are scored, are added to the final House assembly along with all other house points throughout the year to decide who the champion house is.
Last year we finished 3rd in the local borough basketball competition, losing to the eventual winners Melcombe in the semi final. 
We also finished in very respectable positions at the kwik cricket tournament for both boys and girls, as well as dodgeball and both mayors cup teams in the football.
School Games Mark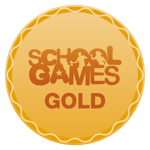 Flora Gardens Primary School achieved Gold award last year.
Recent events
QUADKIDS YEAR 3/4
3rd July 2018
QUADKIDS YEAR 3/4
Netball and rounders festival
25th June 2018
Netball and rounders festival/ tournament
QUADKIDS YEAR 5/6
7th June 2018
QUADKIDS YEAR 5/6
Want to find out more?
Visit the Flora Gardens Primary School website to learn more about the school