Hunter's Bar Junior School
We provide the children of Hunter's Bar with a rich and diverse PE curriculum to best meet the requirements of the national curriculum. Hunters Bar Junior School-Igniting Lifelong Learning
PE plays a significant role in the education of every child at Hunter's Bar. Lessons take place indoors and outdoors twice each week.
At Hunter's Bar Junior School we actively encourage children to take greater ownership on how their physical education and sports opportunities are planned and delivered. We create a number of leading, officiating and organising roles that the children can fulfill throughout the school year.
Club Links
We have the following links to outside providers who either support us in school (Lessons, Lunch clubs, After school clubs) or we use to signpost pupils to for additional training.
City of Sheffield Hatters Basketball
Sheffield Wednesday Community Development Programme
Sheffield United Community Foundation
Sheffield Steel Junior Roller Derby Club
YST Innovation Schools Project
The Innovation School network is about developing a culture of collaboration and professional dialogue. Working together to use the power of PE and sport to improve wellbeing, achievement and leadership through school based research and collaboration.
The schools involved in the network will work across seven areas of specialism, using the power of PE and sport to improve young people's aspiration, attainment, achievement and employability.
HBJS was identified as a successful practitioner within the field of physical education and sport. As such, we have been invited as one of only four Primary/Junior schools nationally to join the network during its first year.
Schools joining the Youth Sport Trust Innovation School network, are invited to identify one strand as a specialism. This could be either an area where success has already been proven, or it may be a new area that has been identified as a priority for the school. HBJS have chosen to use the enthusiasm and engagement of learners to identify weaknesses and make improvements in physical education and see if this can be transferred to other areas of the curriculum.
Innovation Schools need to have the commitment to make the work a key focus of the school's development over the next three years and the capacity to share learning throughout the network.
School Games Mark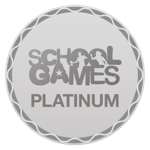 Hunter's Bar Junior School achieved Platinum award in the most recent year School Games Mark was awarded.
Recent events
Y3/4 Drax Cricket
23rd May 2023
South Yorkshire Virtual School Games Week
20th March 2023
Virtual event where schools use access to resources to create opportunities for physical activity in their own school.
Sheffield School Games Primary Panathlon Heat 1
8th February 2023
Want to find out more?
Visit the Hunter's Bar Junior School website to learn more about the school