Mead Vale Community Primary School
Mead Vale Primary School is part of the ELAN Multi-Academy Trust. We are a school of over 300 pupils, based in Worle, Weston-super-Mare.
Mead Vale provides a highly engaging and exciting learning environment for over 300 pupils. The children are supported by an incredibly driven and support staff team, who all work together to ensure that all children are afforded the best learning opportunities. We are located in Worle, Weston-super-Mare.
We believe that every child deserves the opportunity to shine and be successful and strive to ensure that our school promotes a sense of belonging and togetherness to create a positive learning environment for our children.
Our school's core values are:
Respect Hope Commitment Independence Honesty Excellence
School Games Mark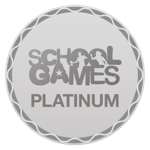 Mead Vale Community Primary School achieved Platinum award last year.
Recent events
Year 5/6 Sportshall Athletics (am)
4th December 2019
An opportunity for teams of year 5/6 pupils to participate in the exciting primary sportshall athletics format. Children have the opportunity to take part in a range of track and field events, scoring points for their team. Full details and booking via the NSSPEA website.
Year 4/5 Racket Pack Festival
18th November 2019
An opportunity to participate in a fun and exciting 'Racket Pack' festival, with an opportunity to learn and apply badminton skills through a series of games.
Level 2 Year 5/6 'Megafest' Rugby
23rd October 2019
An opportunity to bring a team of pupils that are new to rugby to participate in a 'Megafest' festival. This event has a pathway to the level 3 Spring School Games. Full details and registration via the NSSPEA website.
Want to find out more?
Visit the Mead Vale Community Primary School website to learn more about the school