St Clare's RC Primary School
St Clare's is a small primary school in Acklam, Middlesbrough. We have a newly appointed sports crew this year who are eager to get going to make a real difference in our school. As a school we are very passionate about PE love taking part in School Games competitions against other schools in the area. We also enjoy participating in our own intra-house team events against our other class members. This year we are going for Gold again!
Meet our new Sports Crew!
Sophie, Matthew, Jonathon, Maddie, Tommy and Cole.
School Games Mark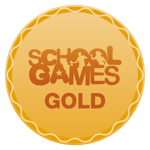 St Clare's RC Primary School achieved Gold award last year.
Recent events
Skipping Festival
4th December 2018
Skipping has always proven to be a very popular playground activity. So rather than the previous years where a competition has taken place we have decided to run a festival to learn skills that children can take back to school to use on the playground and outside of school.Again we want to give as many children as possible the opportunity to experience skipping so there will be 4 fun sessions available to choose from, am or pm and different days, where schools can bring a large group of children (up to 30) to learn and practise new skills in a really friendly, relaxed atmosphere.
Y3/4 Sports Hall Athletics
28th November 2018
An opportunity for younger pupils to experience Sports Hall Athletics and develop their skills.
Primary Sports Hall Athletics
27th November 2018
Qualifying competition for the Tees Valley County Final on Thursday 17 January 2019
Want to find out more?
Visit the St Clare's RC Primary School website to learn more about the school