St John Fisher Primary, A Catholic Voluntary Academy
St John Fisher is a special place; an inclusive learning community with a strong vision, shared values and visible Catholic ethos. We are ambitious and work hard to go further in order to be the very best we can be. Our community is a place of aspiration; where expectations of both pupils and staff are high. Our children deserve nothing less than our best.
We are a community focused on our wonderful children. Our aim is to provide each with a rich and caring environment in which they will feel happy, safe and loved and be inspired to enjoy and achieve every day.
We believe that every child is talented and unique and should be affirmed and supported to appreciate their uniqueness and own gifts and talents. This is why our community is one where every child is known, understood and loved.
We aim to be a welcoming place in which all are treated with respect, tolerance and understanding. We aim to be a highly inclusive organisation where good manners are valued and every child is able to experience success and gain the skills and attitudes necessary to be happy and successful life-long learners.
School Games Mark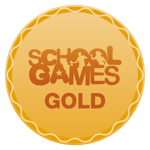 St John Fisher Primary, A Catholic Voluntary Academy achieved Gold award last year.
Recent events
Basketball
7th October 2019
Basketball beat your best for KS2 on the yard every lunch this next week.
Y6 Sheffield Cycling Finals
19th September 2019
Y5 Rounders
11th July 2019
Y5 Mixed rounders comp
Want to find out more?
Visit the St John Fisher Primary, A Catholic Voluntary Academy website to learn more about the school