St Joseph's Catholic Primary School
"With God in our hearts, we learn and grow together on our journey through life."
http://www.stjosephs.kingston.sch.uk/school-video/
St Joseph's is a welcoming and inclusive Catholic school attached to the Parish of St Raphael's, Kingston, and is part of the Diocese of Southwark. We have close links with Father Michael Lovell and the parish, and as a strong Catholic community, gospel values permeate all aspects of school life.
We actively encourage parents to become involved in St Joseph's school life. Throughout the year there are a variety of opportunities to support the school and to be involved with the children's learning and to celebrate their achievements.
Children come first at St Joseph's and we strive to ensure all children feel happy and safe in their learning environment. Our committed staff provide a broad and stimulating curriculum to motivate the children to learn and develop their enquiring minds. Our philosophy is to actively support children to become increasingly independent and to be in charge of their own learning and development. Every child's successes are celebrated and each child is encouraged to grow and achieve excellence in all aspects of their spiritual, moral, physical, emotional and educational development.
School Games Mark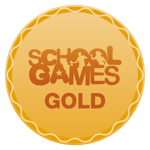 St Joseph's Catholic Primary School achieved Gold award last year.
Recent events
Q3 Table Tennis
14th May 2020
Yr3/4 Mini Tennis
7th May 2020
Yr5/6 3v3 Basketball
29th April 2020
Want to find out more?
Visit the St Joseph's Catholic Primary School website to learn more about the school