St Joseph's Catholic Primary School
St Joseph's is an inclusive primary school in Billingham. At St Joseph's all children are encouraged to be the best that they can be, especially in sports.
During the school year we enter many sporting competitions. So far this year we have entered teams into Tag Rugby, Football and Basketball, and are looking forward to the competitions in the Spring and Summer terms. We believe it is important to broaden the children's experience of different sports and have booked demonstrations with Destination Judo and Hoop Starz in order to promote these sports.
At St Joseph's we promote the value of respect in our school days, and this extends towards sporting events. We also promote the values of teamwork and self-belief, and know this can develop through sporting activities. Every term we celebrate the success of all the children in competitions and in PE lessons, by awarding children who have worked hard to develop their skills, including listening, teamwork and sporting skills.
Last academic year, St Joseph's gained the Gold Mark award for the second year running due to hard work and determination from the children and members of staff.
School Games Mark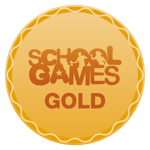 St Joseph's Catholic Primary School achieved Gold award last year.
Recent events
Yr5/6 Stockton Northfield Girls Football final
25th February 2020
Swimming Cluster Day 4
6th February 2020
Stockton Yr5 Basketball Final
22nd January 2020
Want to find out more?
Visit the St Joseph's Catholic Primary School website to learn more about the school