St Patrick's Roman Catholic Primary School
Welcome to our School Games Profile.
The staff and governors of St Patrick's are committed to providing an excellent education that helps all of our children to achieve highly both academically and in their personal development. This will be achieved through first-rate teaching, an exciting curriculum and a broad range of extra-curricular activities. 
Please see our blog to find out more about extra curricular clubs and competitions. 
School Games Mark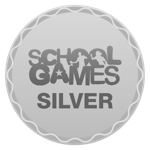 St Patrick's Roman Catholic Primary School achieved Silver award last year.
Recent events
Sports Day & Tough Mudder
5th July 2019
Traditional sports day am then tough mudder in the aftrenoon
Greater Manchester Winter Games
19th March 2019
Year 5/6 Sports Hall Athletics Finals
6th February 2019
an indoor athletics event for children in years 5 and 6.
Want to find out more?
Visit the St Patrick's Roman Catholic Primary School website to learn more about the school