St Paul's Catholic Primary School
St Paul's RC primary school Billingham is committed to providing good sporting opportunities for all children.
St Paul's RC Primary School in Billingham is a one form entry school who values the role of sport highly. We ensure that all our children receive high quality PE lessons and understand the importance of an active lifestyle. We continuously strive to provide excellent sport provision throughout the school. All pupils have the opportunity to participate in a range of sporting events from Nursery to Year 6. These range from yoga to Festival days to football and cross-country events. In Key Stage 2, the majority of children enjoy the challenge of competing in Level 1 competitions either during PE sessions or lunchtimes. We also participate in inter-school sports events on a regular basis. Last year we celebrated a very successful year. We had a football and cricket team get through to the Stockton Schools Finals as well as having children gain places at the Tees Valley Finals in: cross country, athletics, and swimming. Two of our pupils won awards at the Stockton Schools Sports Award ceremony. We also achieved the school games Gold mark, an achievement we are all very proud of.  This year we are looking forward to providing even more opportunity for our pupils to take part in new and exciting sporting events.
School Games Mark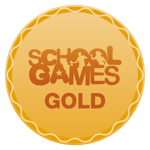 St Paul's Catholic Primary School achieved Gold award last year.
Recent events
Stockton Y5 & 6 Swimming Finals
12th March 2020
Tees Valley Open Yr5/6 Football Finals
2nd March 2020
Yr5/6 Northfield Cluster Football Final
11th February 2020