The Gainsborough Parish Church Primary School
Welcome to the Gainsborough Parish Church C.E. Primary School, the greatest sporting school this side of the moon! We are a stand-alone Church of England Academy, this means that the school is independent of the local authority, but still has very close links with the Church of England.
We are very lucky to be situated next to All Saints' Parish Church and very near to The Old Hall. Our school opened in 1844 (as a girls' school) and we have a long, proud tradition of providing local children with a distinctively Christian education of the highest quality.  School life is underpinned by Christian values and we have an ethos of nurture and care. Pupils and families are warmly welcomed into the school and church community. We value every child as an individual and support our pupils to develop the social and emotional skills necessary for positive relationships, confidence and self-esteem.       We have high expectations for both achievement and personal development and aim to provide all our children with inspirational educational experiences to support this. We believe every child has the potential for academic success and our teachers strive to ensure that the challenge and support provided is tailored to the individual child's ability and need.  Our curriculum is broad and balanced, and along with high standards in English and mathematics, we have a well-deserved reputation for artistic and sporting excellence.
School Games Mark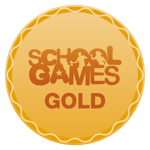 The Gainsborough Parish Church Primary School achieved Gold award in the most recent year School Games Mark was awarded.
MR ANDERSON IS NO.1
Reward and Recognition 2018/19 – Announcement of the Second Winner John Anderson
Recent events
Year 6 transition festival
29th May 2023
Primary Orienteering
30th March 2023
Rugby mega fest
3rd March 2023
Want to find out more?
Visit the The Gainsborough Parish Church Primary School website to learn more about the school