Olympian Abi Oyepitan visits prize winners Frances Bardsley
Three-time Commonwealth Games medallist and two-time Olympian Abiodun Oyepitan was the guest of honour at Frances Bardsley Academy for Girls last week as the school celebrated the success of its young leaders.
The Romford school, which educates girls between the ages of 11 and 18, won our Student Volunteering Week competition back in February - where the prize on offer was an exciting visit from a Youth Sport Trust athlete mentor. 
Frances Bardsley, represented by Extra Curricular and Community Coordinator Sharon Chapman, selected Oyepitan who delivered a series of athletics-based workshops for pupils in Year 9, 10 and a group of 30 sports leaders ranging from Year 8-10, focusing on fitness and stamina, running technique, race starts and relay baton changes. She also hosted an informal assembly and a question and answer session about the highs and lows of her career.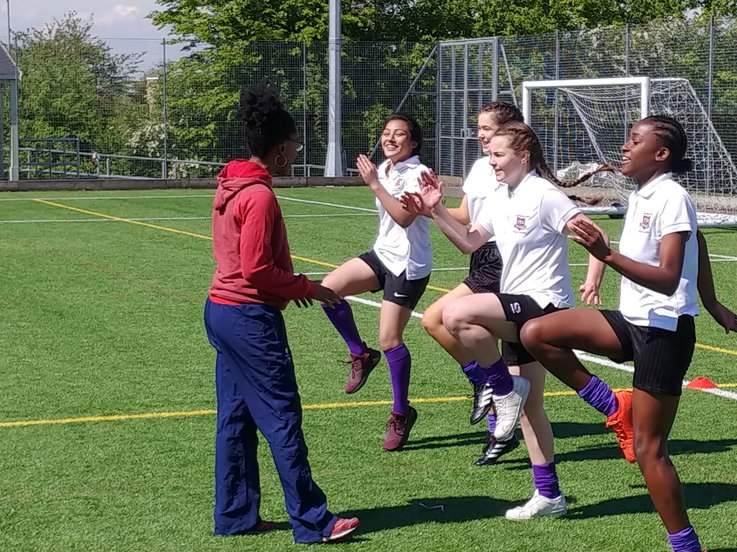 "I have seen many pupils develop their confidence through volunteering and I find this one of the most satisfying parts of my job as extra-curricular and community coordinator. I am proud to take the groups of Sports Leaders to events as I know they will always set high standards and are a credit to Frances Bardsley Academy."
Sharon Champman talks about the school's young leaders
The school won its prize for submitting a case study detailing the work of its young leaders throughout the academic year. Frances Bardsley work closely with a number of other schools in their local area including Hylands Primary, Squirrels Heath Primary, Benhurst Primary and RJ Mitchell Primary where their young leaders volunteer. Their leaders also play an important role at their own school - helping to organise the intra-school School Games Day as well as other inter-house competitions. 
One recent event saw the Year 9 Sports Leaders group organise a games skills festival for three local primary schools. The pupils were from Year 2 and were able to try basketball, football, netball, tennis and tag rugby. The girls planned and delivered the activities with the emphasis on learning new skills and having fun and were praised for their delivery and attitude. 

"I learned communication skills like body language, projecting your voice and eye contact. We experienced working with young children and taking charge. I was honoured to be picked as part of this opportunity."
Pupil Charlotte Ling on being a Sports Leader
A group of the school's young leaders were selected to take part in the Havering Collective Leadership Academy - helping them produce a group of skilled volunteers with training in delivering Sports Hall Athletics, Quadkids and Cricket, skills which they have used to deliver inter-school competitions. Pupils from across the school are now involved in coaching schools teams in netball, football, badminton, indoor rowing, gymnastics and trampoline whilst the school also offers opportunities for all its pupils to share their skills with their peers in a safe and controlled environment.
Success stories include Year 11 student Emily Green, who coached the Year 7 netball team and is now taking BTEC sports at a local college, and Megan Witton, from Year 13, who coached the school Gymnastics team to victory at the Havering Championships and is now studying Sport Science at Chichester University.
"Volunteering has allowed me to build confidence when talking to children. It has also helped me to show empathy, be more patient and learn new skills."
Pupil Maddie Biggs on being a Sports Leader
However, the pupils faced a new challenge this month in the form of British sprint athlete, Oyepitan. Abi, who retired in 2012 following the Olympic Games in London, spent her career running in both the 100m and 200m as well as the 4 x 100m relay. During her prime she was considered one of Britain's best female sprinters, with personal bests of 11.17s in the 100m and 22.50s in the 200m, reaching the Olympic final of the latter in 2004 - the first British woman to do so since Kathy Cook 20 years earlier.
As well as her Olympic success Abi won both gold and silver medals at the 2010 Commonwealth Games in Delhi - adding to the bronze she won in Manchester in 2002 - an achievement made all the more impressive by her first having to overcome a long-term injury which ruled her out of the 2008 Olympic Games in Beijing. She finished her career running in front of a capacity home crowd in London two years later where, despite failing to reach a final, she created a career highlight by competing in a once in a lifetime event.

She continues to put all those experiences to very good use by working with young people, such as the girls of Frances Bardsley, to encourage them, challenge them, and prove to them that they can achieve anything they set their mind to. It was certainly a great day for all concerned in Essex with close to 100 very tired girls still able to echo a chorus of enthusiastic thanks upon Abi's departure.
The School Games team are passionate about offering opportunities such as this to our schools as a thank you for their commitment to the importance of school sport within the curriculum so please look out for more chances to win in the near future!