Clayton-le-Moors All Saints' Church of England Primary School
All Saints
All Saints' are proud to be an active school with high games and sports participation.
Our year 6 sports leaders are in charge of the Your School Games dashboard, so keep checking for blogs, photos, updates and reports on the most recent sporting events at All Saints'.
This year we will be aiming for the Your School Games Gold Award.
We love sports and games at All Saints' and take part in lots of extra-curricular sporting clubs. We have visitors and professional coaches coming in to school to support our progression in PE.
School Games Mark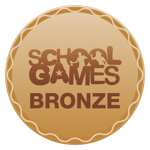 Clayton-le-Moors All Saints' Church of England Primary School achieved Bronze award in the most recent year School Games Mark was awarded.
Recent events
Well Being Warriors Training
12th October 2022
High 5 Practice
10th October 2022
Hyndburn Cross Country
6th October 2022
Want to find out more?
Visit the Clayton-le-Moors All Saints' Church of England Primary School website to learn more about the school