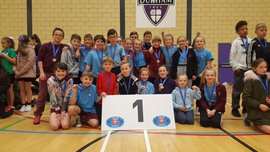 Crooksbarn Primary School
PE and School Sport form a huge part of enriching our curriculum at Crooksbarn. We are huge believers that active children are healthy, happy children. We strive to give our children positive physical experiences from the moment they enter our school in Nursery until they moment they leave in Year 6.
Crooksbarn Primary School Sport
At Crooksbarn, we have a long established sporting tradition in which children are encouraged to get active and get involved. We endeavour to provide all of our children with a positive sporting experience during their time in our school and we hope that each child leaves our school with a sport that they are actively engaged with.
During the school year we enter many sporting competitions. This year we will be entering teams into Tag Rugby, Athletics, Football, Golf, Basketball, Netball, Cross Country, Dance, Hockey, Squash and Cricket competitions. Children from Year 2 to Year 6 will take part in competitive out of school events whilst all classes from Reception upwards are given a variety of enrichment opportunities as part of the curriculum such as Judo, Hula-Hooping, Archery and Yoga.
We offer a variety of extra-curricular sporting opportunities for our children. In a typical week, children can take part in squash, gymnastics, football, girls football, multi-sports and table tennis. These experiences supplement the two hours of PE time that all children from Y1-6 receive.
Sport enriches children's learning in our school. It gives children a chance to shine, both as individuals and teams, and we are extremely proud of all of their achievements. At the end of each school year, one Y6 child is presented with the Pat Johns Award for 'Outstanding achievement in sport'. We look forward to who will earn that award in 2018.
School Games Mark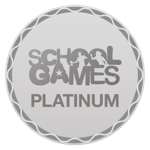 Crooksbarn Primary School achieved Platinum award in the most recent year School Games Mark was awarded.
Recent events
Quad Kids 3
5th July 2021
Scavenger Hunt Day 1
5th May 2021
Tap up Tennis
24th February 2021
A tennis skills personal challenge for schools and home.
Want to find out more?
Visit the Crooksbarn Primary School website to learn more about the school