Crowcombe CofE VA Primary School
Effective, enjoyable, and inclusive Physical Education is at the heart of an outstanding curriculum, that develops healthy bodies and minds. We view PE and Learning Outside the Classroom (LOtC) as cornerstones of our pupils' learning. Exercise for all at the start of the school day, leadership training for our oldest pupils, physical activity embedded within outdoor learning, and extra curricular clubs and tournaments for our least active, our most competitive and for those 'testing the water' - these all enhance our comprehensively taught PE curriculum.
Stogumber and Crowcombe Federated C of E Primary Schools are situated at the foot of the Quantock Hills, an area of outstanding beauty, deep in rural Somerset.
Our school community is based on a foundation of compassion, co-operation, investigation and creativity. We are driven by high standards and an enthusiastic love of learning, within a positive Christian ethos.
Our two schools are federated which mean that we share a headteacher, a governing body and a PTA. This enables us to offer extended opportunities to our children with a wider range of activities and staff expertise.
Reception, Year 1 and Year 2 from both schools are educated at Stogumber, and all children in Years 3, 4, 5 & 6 are taught at Crowcombe in facilities which have recently been improved to facilitate Key Stage 2.
We have our own mini-bus which is used on a daily basis to provide free transport between the schools, which now includes a bus-stop at Stogumber train station.
We have small classes and a high ratio of adults to children which enables pupils of all abilities to learn to their full potential.
School Games Mark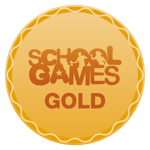 Crowcombe CofE VA Primary School achieved Gold award last year.
Recent events
KS2 Cross-Country
24th June 2019
Cross-Country
Y3/4 Quadkids Athletics
6th June 2019
Quadkids Athletics
Y2 Multisports Festival
5th June 2019
Want to find out more?
Visit the Crowcombe CofE VA Primary School website to learn more about the school