Greenfields Primary School
Gold Kitemark holders!
We are a busy primary school in Shropshire with over 300 kids. We take school sport seriously and we have a happy and active community.
School Games Mark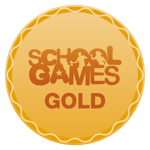 Greenfields Primary School achieved Gold award in the most recent year School Games Mark was awarded.
Recent events
yr 5/6 cross country
8th March 2022
Yr 3/4 Cross country
8th March 2022
Belvidere cluster basketball
11th February 2022
This is an event for schools that buy into the belvidere cluster only
Want to find out more?
Visit the Greenfields Primary School website to learn more about the school