Hertford St Andrew CofE Primary School
As a Church of England Primary School, our ethos is firmly grounded in Christian Values. We are committed to celebrating each and every child. We seek to provide many, varied opportunities for learning, recognising the gifts and talents of each individual. Our close-knit community supports and encourages our children to grow and flourish, both personally and academically.
At Hertford St Andrew school, physical activity and sport are seen as exceptionally important factors of our curriculum and whole school ethos. Partnered with a focus on healthy and active lifestyles, we can ensure that our children will be given the best opportunities to succeed through physical activity. We have recently improved the provision for children across the school and this has led to a much increased level of participation from our pupils at both Level 1 (Intra-school) and Level 2 (Inter-school). Having invested in a number of new resources, our vision is to give each and every child an equal opportunity to access activities that suit their needs ensuring that the PE curriculum is completely inclusive.
School Games Mark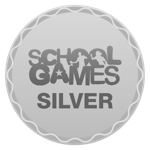 Hertford St Andrew CofE Primary School achieved Silver award in the most recent year School Games Mark was awarded.
Recent events
Aspire & Develop: Year 2 Development Day
16th January 2023
Two sessions: 9.30-11.30am and 1-3pm Year 2 children to come and experience different sporting activities
Aspire & Develop: Every1In Festival
2nd December 2022
2 sessions, am and pm. Target SEND / non-participants
Speed Stacking
16th November 2022
Intra speed stacking competition
Want to find out more?
Visit the Hertford St Andrew CofE Primary School website to learn more about the school