Holy Trinity Church of England Primary School

At Holy Trinity, we strive to create a culture which aims to inspire an active generation to enjoy PE, encourage each other and achieve. We provide a safe and supportive environment for children to flourish, using a range of different physical activities which are essential in supporting their physical, emotional, spiritual, social and moral development
We are a school with high expectations and high standards. We have high expectations of the children, whether that is applying themselves to their learning in the classroom, having good manners with everyone they meet or when taking part in one of the many opportunities outside the classroom. We value perseverance, hard work and a positive attitude.
At Holy Trinity we believe that Physical Education contributes significantly to children's learning and development across physical, social, emotional and cognitive domains. As a school, we are fully committed to a delivery that focuses upon a developmental, inclusive and safe approach, where children's acquisition of fundamental movement skills is of high priority.
Holy Trinity are members of Association for Lewisham Primary School Sport (ALPS) and participate in the school games competitions. At the end of each half term we also hold intra school competitions where the children get a chance to compete among their peers.
There are a variety of after schools clubs providing the children with the opportunity to take part in sports outside of school. The wide range of sports offered ensures that there is an option for everyone!
Our School Values are at the heart of everything we do at Holy Trinity, these are to be Forgiving, Ambitious, Respectful, Resilient, Kind and Honest.
School Games Mark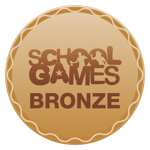 Holy Trinity Church of England Primary School achieved Bronze award in the most recent year School Games Mark was awarded.
Recent events
NFL Flag CPD
25th January 2023
The cost of this CPD is covered by the NFL and so you will not need to make a payment to register onto the course. The CPD will be taking place outdoors, so please ensure you bring appropriate clothing. We also recommend bringing studded boots if you have some. Lunch will not be provided so please ensure you bring food with you, and also plenty of water as you will be active throughout the day. You are allowed to register ONE member of staff onto this course. Please state in the description the name of who will be attending the course. If we have space following the deadline of Wednesday 4th January, we will offer an additional space for your school on a first come, first serve basis. Please note that you will need to be in attendance for the whole day, in order to qualify to receive the equipment at the end of the session. The course will run from 9am-4pm. Address is Abbotshall Healthy Lifestyle Centre, Abbotshall Road, London, SE6 1SQ
*POSTPONED* Primary Panathlon
15th November 2022
9:45am for a prompt 10am start No pathway SEN Only Teams of 6-8
**NEW DATE** PE Coordinators Meeting
4th October 2022
Want to find out more?
Visit the Holy Trinity Church of England Primary School website to learn more about the school