Hunwick Primary School
Hunwick Primary is a Durham County Council Community school with 173 children on role at present. It is a friendly, successful school situated in the centre of the pleasant Wear Valley village of Hunwick.
The school consists of seven classrooms, all of which surround a quad area. Play areas have been developed and provide the children with a choice of activities at playtimes. They include a play trail, various line markings for games, a train and even a pirate ship! The large playing field is extremely popular with the children and it is used constantly during good weather. We have developed areas of the field to include a poly tunnel in which we grow vegetables, an environmental trail which includes a bog garden, wildlife zone with seating and a very popular bird hide. Our Early Years outside area is enclosed and provides many opportunities for outdoor learning in the Reception Class.
We continually strive for excellence; recent awards include:
Basic Skills Award in recognition of high standards in English and Mathematics
Artsmark Silver
Schools Games  Gold
We are committed to continuous improvement for the benefit of your children and the whole community. Our vision is for a school at the heart of the community, where we strive for quality, enjoyment and success for all.
School Games Mark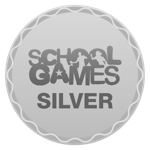 Hunwick Primary School achieved Silver award last year.
Recent events
Sports Week and Sports Day
27th June 2019
Monday - Sports Assembly Tuesday - Rounders am KS 1/ KS 2 pm Wednesday - Football KS 1 am/ KS 2 pm Thursday - Sportsday Sack race, obstacle course, sprint, relay, cone shuttle etc For every year group Friday - Assembly - celebration
Sports Week and Sports Day
27th June 2019
Although this is only 1 event, this was a full week of events Monday - Sports Week assembly Tuesday - rounders am KS 1/ KS 2 pm Wednesday - - football am KS 1/ KS 2 pm Thursday - Sports day Sack race, skipping, obstacle, sprint, hurdles, relay etc for each year group Friday - celebration assembly
Level 2 School Games Basketball Year 5/6 (FULL)
11th June 2019
Event 3 of 3, 6 team spaces available. Year 5/6 Basketball, Squads of 10 maximum, 4 v 4 games. League format, top 2 teams qualify for the area finals on 27th June. Arrive 12.45pm, First game at 1.00pm. Finish 2.00pm
Want to find out more?
Visit the Hunwick Primary School website to learn more about the school