Hurstmere School
Hurstmere School is a well-established and respected school for boys which brings enhanced sporting and educational opportunities to our boys and members of the wider Bexley Community.
Physical Education at Hurstmere develops students' competence and confidence to take part in a range of physical activities that become a central part of their lives, both in and out of school. The PE curriculum encourages all students to enjoy and succeed in a range of physical activity and sports which help them make informed choices about lifelong physical activity. Through engagement in the School Games Hurstmere boys are provided with the opportunity to compete in intra and inter school competitions as well as support the delivery of events through our expansive Sports Leaders programme.
School Games Mark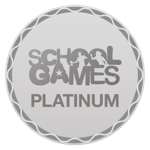 Hurstmere School achieved Platinum award in the most recent year School Games Mark was awarded.
Recent events
Secondary Quadkids
21st April 2021
This competition involves young people participating in 4 athletic events and can be organised in a format that best suits individual schools. You will be emailed full information and resources once you have requested entry.
Virtual Home/School Stair Climb Challenge
5th January 2021
Count the number of stairs you climb and see how many of the famous landmarks you can climb as an individual and as a school?
Virtual Home/School Step Challenge
5th January 2021
Use a step counter either on a pedometer, mobile phone app, Fitbit or similar device or when moving around count how many steps you do to help your school walk from Lands End to John O'Groats. Which school will get their first?
Want to find out more?
Visit the Hurstmere School website to learn more about the school