Hurstmere School
Hurstmere School is a well-established and respected school for boys. We are a Specialist Sports and Science Academy which brings enhanced sporting and educational opportunities to our boys and members of the wider Bexley Community.
Physical Education at Hurstmere develops students' competence and confidence to take part in a range of physical activities that become a central part of their lives, both in and out of school. The PE curriculum encourages all students to enjoy and succeed in a range of physical activity and sports which help them make informed choices about lifelong physical activity. Through engagement in the School Games Hurstmere boys are provided with the opportunity to compete in intra and inter school competitions as well as support the delivery of events through our expansive Sports Leaders programme.
School Games Mark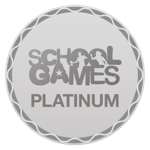 Hurstmere School achieved Platinum award last year.
Recent events
Year 10&Under Boys Volleyball
5th December 2018
This event is for Boys in year 10 or below and will be 4v4 Super Mini Volleyball. The winners from this competition will then go on to represent Bexley Borough in the London School Games Finals. Full details of this event can be found in your School Games Handbook. Entry for this competition will be open from 3rd October and closes on 2nd November.
Bexley Secondary School Cross Country Championships
17th October 2018
This year's Cross Country Championships will be held at Beths Grammar School. There is no limit on the number of competitors you can take. If you would like to enter this event please contact the Head of PE at Beths for further details and the entry form.
Year 7 Boys Kwik Cricket
4th July 2018
This is a Boys only Kwik Cricket competition and is a great opportunity to engage boys who do not usually get the opportunity to represent the school . Full details can be found in your School Games Handbook. Closing date for entries: Friday 8th June 2018.
Want to find out more?
Visit the Hurstmere School website to learn more about the school